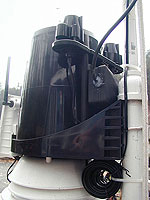 Station D2149 was first made operational on January 14th, 2009 for the purpose of providing the most accurate weather data possible for Bass Lake Ca. and the surrounding area of the Southern Sierra Nevada.


Along with the installation of the station hardware, specialized computer software was employed in order to upload the station's data via the internet to a variety of online weather networks, including Weather Underground, the Citizens Weather Observation Program (CWOP),
MesoWest and the Meteorological Assimilation Data Ingest System, aka MADIS. The latter is managed by NOAA and The National Weather Service.

Prior this station's activation, there was a very noticeable lack of "accurate" weather data reporting for this area. In fact... The National Weather Service in Hanford Ca. did not offer Bass Lake weather data on their forecast website, or on NOAA All Hazards Weather Radio broadcasts before 2009. The reason for this lack of inclusion was a simple one... There were no personal or commercial weather stations in the area capable of meeting NOAA's strict data accuracy requirements.

In September of 2009, the National Weather Service Office in Hanford Ca. selected D2149 to become the first NWS Partner Station for the Bass Lake area. Our station's data is now provided on the NWS forecast website as well as in the "Hourly Weather Roundup" segment on KIH 62 NOAA All Hazards Radio 24 hours a day, 7 days a week.


MADIS D2149 remains the only privately owned weather station in the area to be directly partnered with The National Weather Service for weather data sharing and redisplay on official NWS and NOAA web sites. *
2016 ISS Hardware Upgrade


On March 2nd, 2016 we once again upgraded our ISS sensor array outside on the mast with the latest version of the Davis VP2 Plus 6163. In addition to all the usual features, this new ISS comes with the latest high resolution Temp/Humidity sensor (SHT 31) which provides a more granular recording of temperature and humidity fluctuations. The increased resolution can be clearly seen if you compare our daily Wunderground temp/dewpoint data graphs before March 2nd, 2016 to any data recorded after March 1st, 2016.

The 2012 vintage 6163 ISS has been sent back to the Davis factory for refurbishing and upgrading of its components to these new standards. This will provide us with an identical ISS backup just in case we encounter any ISS issues or failures in the future. The backup ISS can be quickly swapped in to prevent any significant station downtime.


2012 Sensor Hardware Upgrade
On July 24th, 2012 we upgraded our ISS sensor array outside on the mast with a brand new Davis VP2 Model 6163. This top of the line version of our previous ISS comes equipped with a factory installed 24 Hour FARS system. (Fan Aspirated Radiation Shield). The upgrade was undertaken due to a failing Daytime Only FARS system in our original VP2 ISS along with some drift in our original UV and Solar sensors.

The new ISS has improved our overnight sensor accuracy by 25% while further maintaining our daytime temp accuracy which is most apparent during the hot summer months. Direct sunlight on a standard radiation shield can often add as much as 10 degrees F to the temp sensor's reading, resulting in grossly inaccurate temperature reports, which are slow to recover even after sunset. An unfortunate reality that plagues the majority of personal and commercial weather stations operating in this area. A high quality FARS system keeps fresh air flowing over the temp and humidity sensors, preventing the temp sensor from over-reporting and the humidity sensor from under reporting due to this unwanted radiant heat.

Given... A quality FARS system is an expensive addition to the cost of a weather station, and the reason why very few privately owned stations are equipped with them. But the fact remains that
you simply can not maintain accurate weather data in a location like the Sierra Nevada without one.
Got a question for the Station Operator about the station?
Email us!
Some of the most common questions we receive are posted
here
on our station Q&A page.
STATION HARDWARE: (last upgraded on March 2nd, 2016)
2016 production Davis Instruments Vantage Pro2 PLUS model 6163 wireless weather station with 24 Hour Fan Aspirated Radiation Shield, SHT 31 high res T/H sensor + UV & Solar sensors • Custom Made "Temperature Activated" heating element for VP2 rain gauge • Logitech Quickcam Pro 9000 (now WebCam Pro 9000) • Apple iMAC 27" Computer w/ 2.8 GHz Intel Quad Core i5 processor / 4 Gigabytes 1333 MHz DDR3 SDRAM • 3 Terrabytes of data storage via two LaCie d2 Quadra Media Hard Drives.


* DISCLAIMER: This station is privately owned and operated. While our data is used by The National Weather Service and NOAA in several official capacities, the comments and opinions expressed on this site are those of its operators and not those of The National Weather Service, NOAA, its staff or any other governmental agencies.


Click on the station images to see them at full size!

Check out our Station Operator's Journal for behind the scenes reports on station operations!